'Kongunadu Institute of Allied Health Sciences founded by Dr.P.Raju with its managing trustee Mrs.Vijayalakshmi Raju, Dr.Karthikeyan Raju & Arthi Karthikeyan, The college is run by Kongunattu Arakattalai, The college is present in a serene environment amidst the mountains and has a state of the art infrastructure and student facilities ability to accomodate more than 1000 students in its hostel and catering all the courses related to NURSING and various allied medical courses. The college is one of the best institutes for learning allied health sciences in southern india.'
Salient Features Of College
The college is located just 10 kms from the heart of Coimbatore city in Thodamuthur Main Road, The College is built in a area of 8 Hectares with 2 Blocks- Academic / hostel Block, each of them having more than 1 lakh square feet built up area, with state of the art facilities and approved by Government of Tamilnadu & Recognized by Tamil Nadu Dr. MGR medical University.
For all practical training and clinical experience the college is a part of 300 bedded Kongunad Multi Speciality Hospital.
The college has separate 1.2 lakhs square feet hostel having accommodating capacity of more than 1000 students, located adjacent to the Academic Block, hostel has all facilities for lodging and in hostel dinning.
Salient Features of Courses offered
All the courses offered in our institution are in par with medical courses, with respect and offering opportunities to serve people after completion. There is a plenty of vacancies for these courses once completed in private / Government Hospitals, Medical establishments and plenty of opportunities for going abroad.
College is having dedicated & Experienced teaching faculty.
College is having one of the largest libraries with National, International journals, and High Speed Internet Assess.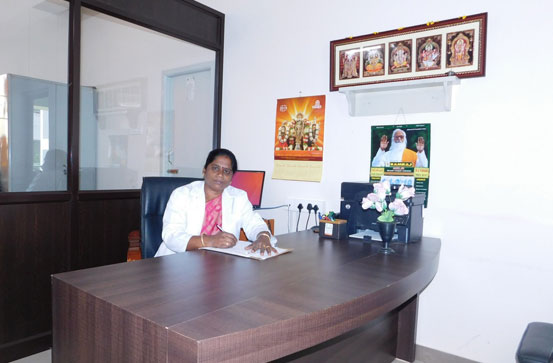 Managing Trustee
'Kongunadu Institute of Allied Health Sciences founded by Dr.P.Raju with its managing trustee Mrs.Vijayalakshmi Raju, Dr.Karthikeyan Raju & Arthi Karthikeyan, The college is run by Kongunattu Arakattalai, The college is present in a serene environment amidst the mountains and has a state of the art infrastructure and student facilities ability to accomodate more than 1000 … Continue reading "Welcome to Kongunadu Institute of Allied Health Sciences."